One of the main emphases of Discipling Men for 2006 is mobilizing men. Mobilizing men regionally and internationally.
We believe that in order for men to grow in Christ, there has to be challenges that stretch men to rely on the grace and sufficiency of God's provision. The intent is to take men outside of their comfort zone, remove the known props and propel them to rely on God. To that end, since hurricane Katrina, Discipling Men has led, initiated and mobilized men on four separate mission trips to the Gulf Coast, encompassing 92 different men. We became the hands and feet, the hammer and nail guns for Christ.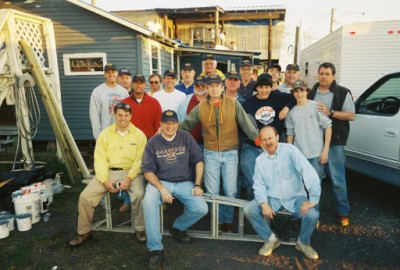 This is the team that, March 23-26, 2006 made a huge impact for the kingdom in the bayou south of Houma, Louisiana. Great thanks to team leaders David Shores, Drew Renshaw, Cecil Godman, Warren Boone, Chris Fiedler, and Mike Rhodes. Discipling Men was privileged to team up with Second Presbyterian to lead the overall effort.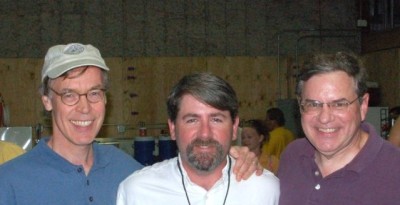 Second Presbyterian Church
Director Eddie Foster, Lagniappe Church Planter in Bay St. Louis, Mississippi, Jean Larroux, and Don Riley.
A hardworking crew of men mobilized by Discipling Men, Inc. poured sweat for Christ, June 22- 25, 2006 in Waveland, and Bay St, Louis, Mississippi.
Ministering to Men
Ministering to men has taken on the various forms of ministry:
one on one counseling, teaching and speaking, conducting men's retreats, leading various Bible studies and individual mentoring relationships.
DaVinci Code
Discipling Men had several opportunities to speak on the DaVinci Code book and movie to churches, civic groups, and a business luncheon hosted
by Crump Mortgage.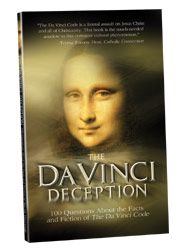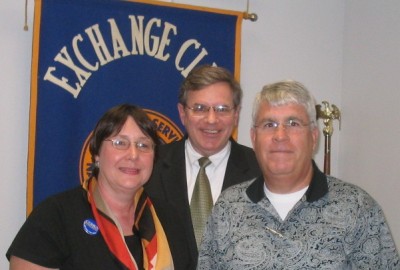 Ministering Men Through Retreats
Through retreats God has opened doors to Discipling Men to conduct various men's retreats and conferences.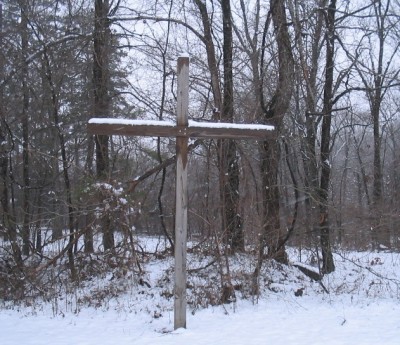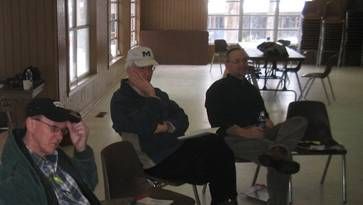 Retreats for men this year included Collierville Presbyterian Church, and River Oaks Reformed Presbyterian Church.
Meeting with Men
Discipling Men has mobilized Meeting with Men regionally, ministered to men in a variety of venues, and also meets with men in small group settings.
Meets with Scout Leaders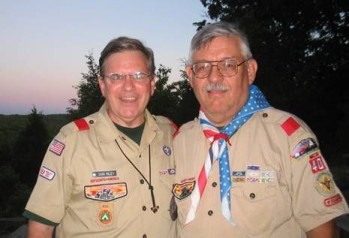 Meets with them in Fun Settings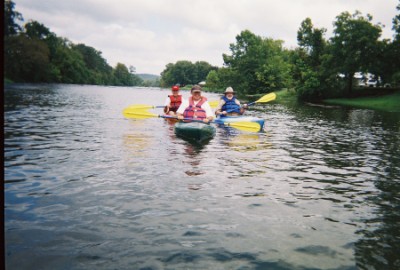 Meets with Key Leaders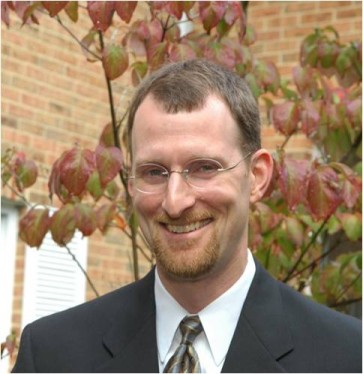 Men's minister at First Evangelical Church, Memphis, and Board member of Discipling Men, Inc. meets weekly with Don to explore ways God is at work in and through men.
Other Church Leaders
Don also meets with Warner Davis, Eddie Foster, Ron Sadlow, and Rocky Anthony of Collierville Pres. and Second Presbyterian in various ways to expand the kingdom. Now the contacts has significantly expanded to numerous PCA Pastors.
Christian Psychological Center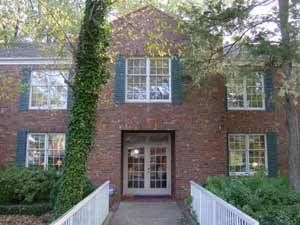 One of the weekly groups that Don facilitates meets at the Christian Psychological Center in Memphis for the purpose of encouraging men to faithfulness in Biblical sexuality. Don participated in a city wide forum on the topic of Internet Porn with Dr.Ted Baldick, and Jim Montgomery.
Another way Discipling Men meets to minister is in the business community.
Crump Mortgage
Discipling Men, Inc is located in a strategic East Memphis location due to the generosity of Crump Mortgage principal, and Discipling Men, Inc. Board member, Rob Crump.
Don and Rob prayed about this alliance, and now Don teaches a regular Bible study in the company and serves as a corporate chaplain to Crump Mortgage and those in the real estate and banking industry.
Rob Crump of Crump Mortgage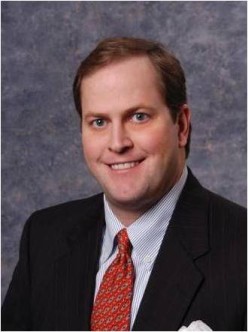 Discipling Men Location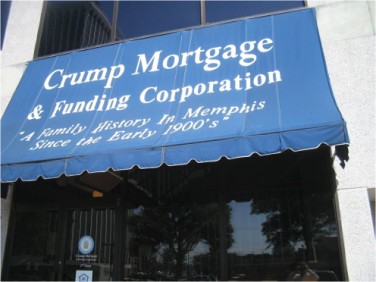 Discipling Men Office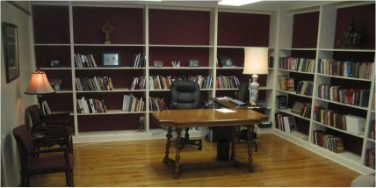 Weekly, the Rev. Sandy Willson, of Second Presbyterian Church teaches over 450 men throughout the city of Memphis. The leadership team of AMEN Bible study, including Executive pastor Rev. Rocky Anthony, and Board members Dan Whipple, and Lon Magness work with Discipling Men to place guys in relational small groups for growth in Jesus Christ. These weekly small groups enable men to strengthen their personal walk with Christ and take the Great Commission of Matthew 28:19, to make disciples seriously.
Men from Area Churches
Discipling Men works with men from Hope Presbyterian, River Oaks Reformed, Living Hope Church, Bellevue Baptist, Holy Rosary Catholic Church, Lakeland Baptist Church, Collierville Presbyterian, Cordova Pres., St. Luke's Methodist, Christ Methodist, First Evangelical Church, and Second Presbyterian Church.
Mobilizing Men Internationally
Last year, I served with a businessman team to Rivno, Ukraine. The main reason I went was to prepare to become a team leader for future trips.
This September, (4-14) Discipling Men will lead a six man team to Vladivostok, Russia to put on a men's conference. We are praying that many men will understand the love of God, and become gripped by the gospel of Jesus Christ. This is a pioneering effort with Second Presbyterian Church to open future doors in conjunction with the ministry, Hope to People.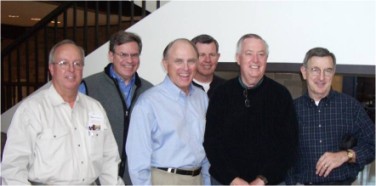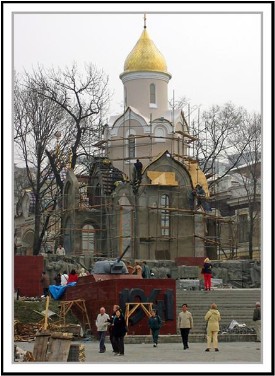 This September, (4 - 14) Discipling Men will lead a team of men to Vladivostok, Russia to put on a men's conference. We are praying that many men will understand the love of God, and become gripped by the gospel of Jesus Christ. This is a pioneering effort with Second Presbyterian Church to open future doors in conjunction with the ministry, Hope to People.
The purpose of this report is to enumerate what God is doing in Discipling Men. I am thankful for the Board of Directors who are generous with their prayers, time, and finances. They are: E.W. Golden, Cecil Godman, Dr. Bill Johns, Frank Allen, Judge Chris Craft, Rob Crump, Cole Huffman, Pete Hammond, Lon Magness, Hank Shelton, and Rick Treharne.
Paul wrote in 1 Corinthians 12: 9 "My grace is sufficient for you, for my power is made perfect in weakness." Therefore I will boast all the more gladly about my weaknesses, so that Christ's power may rest on me. 10 That is why, for Christ's sake, I delight in weaknesses, in insults, in hardships, in persecutions, in difficulties. For when I am weak, then I am strong.
Who Does God Use?
Who is sufficient for these things? I know, as Executive Director, I am not. Jesus tells me, apart from Me, you can do nothing. So He uses the Board of Directors, churches, the Body of Christ, prayer partners, small group leaders, ministry participants, and financial supporters. Thank you for being a blessing to this ministry and an instrument of His grace.
Prayer Requests
Please pray that God would be with us, and do all that needs to be done to make this His work, done His way, for His glory.
2006 has been very busy for Discipling Men in that we led a team to Vladivostok, Russia, continued ministering and meeting with men, had Discipling Men, Inc received and recognized as an official call of the Presbyterian Church in America and participated in Missions USA conference.
Don Riley, E.W.Golden, and Rob Mitchell conducted a mission trip to Vladivostok, Russia September 4-14, 2006. The eight days in Russia were spent with eighty pastors, missionaries and church leaders teaching, partnering, exploring ways to penetrate the Primorye (east) region of Russia with the Gospel.
1. We conducted a men's conference ( taught 13 times)
2. Spent one whole day listening to their ministerial reports
3. Conducted a Sunday service
4. Took ministers and their families for a special meal,
5. Conducted a boat trip and retreat for 28 pastors, and families.
6. Spent one whole day strategizing specific ways in which those
of us in the west can help these very committed pastors to
advance the kingdom to the uttermost parts of the earth.
We experienced great recommitments to Christ on the part of the leaders and were stewards of every possible minute available for ministry.
The trip was not over :
We met Kelly Lee in downtown Seoul while waiting to catch a bus back to our hotel. She rode with us. She did not know what a Christian is.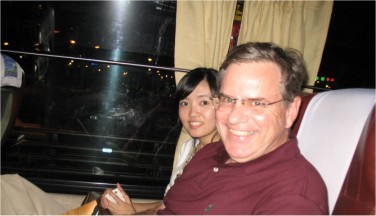 Kelly Lee now knows what a Christian is. She is one. What a joy it is to explain and lead someone to a saving knowledge of Jesus.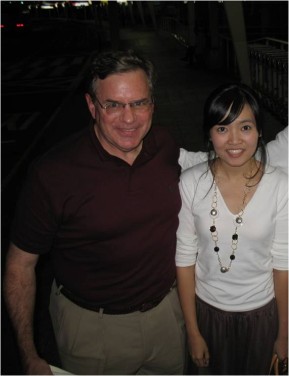 God worked in Discipling Men, Inc to grow men in Christ in 2007. He opened new and wonderful doors of ministry.
We met in 2007 with men in numerous small settings. We ministered to men through teaching, counseling, and retreat settings. We facilitated small groups for AMEN through Second Presbyterian Church. We served this historic and vibrant Second Presbyterian Church through MissionUSA and the World Missions ministries. We mobilized men to serve as the hands and feet of Christ to those devastated from Katrina on the
Gulf
Coast
. We mobilized men to go to the farthest part of the globe by taking a team of dentists and construction workers to
Mafraq, Jordan.
We are on the grow. We hoped to expand in 2007 on several fronts. We did so. We ministered through corporate chaplaincies. We taught monthly a marketplace Bible Study through Crump Mortgage. We ministered through a weekly support group for those to committed to being faithful in Biblical sexuality. We added two very significant ministries. The first was as chaplain for Jordan Enterprises which operates Holiday Deli and Ham and Pimento's Restaurants. This ministry has taken several forms, a monthly devotional time for employees, and weekly visits to the many employees of this growing and vibrant enterprise. Discipling Men is also teaching in the men's ministry at
First
Evangelical
Church
in
Memphis
, a dynamic and exciting church.
We added
Barbara
Smith as our administrative assistant for the office. We are working on making the Web site:
www.disciplingmen.com
very updated and user friendly. We participated as an exhibitor at the General Assembly of the Presbyterian Church in
America
last June. Scouting continued to be a weekly and monthly ministry through Troop 86, through the Thunderbird District but also facilitating a biweekly support lunch for Scout leaders. We in Discipling Men teach the God and Country program.
We made followers and disciples of Christ everyday, everywhere prayerfully, Biblically, lovingly and relationally to the glory of God. Matthew 28:18-20.